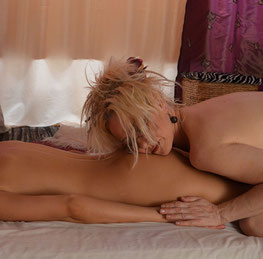 Coaching by Touch
I would rather like to touch deeper, but how?And what is the touch's quality actually?
Grip and touch…
We have learned so much in school. A few things, which one does need in life and a terrible lot, which is of no use…
but what makes the quality of a good touch, which has us only quite rarely, taught someone.
If we are lucky, we could experience, what a deep touch can provide us, but not all did had been so fortunate…
.
We often wonder, why the sexuality does not function the way we would like it, to be and the special attribute of a happy sexuality is made by the touch's quality, not rather seldomly.
.
Regularly, while being on the course of our sexual experiences and encounters in private, we hardly ever or even never get a direct feedback, about how our touch is been felt by the other one. So many people depend on their own intuition.
Exchange, own experiences with different touching situations and a language, where we communicate beautifully about sexual matters, often is been missed. That is creating insecurity…
.
Touching can not only feel warm and cold, moistly or dry. They can be felt as fulfilling or emptying, hungry or feeding, giving or taking, insecure or securing, unclear, confusing or clear and helpful…
.
In addition they can also contain dimensions from very tender, gentle stroking, massage, strong patting, deep pressure, movements, up to a beat…They can be executed with fingers, hands, feet and the whole body…
.
They can expand over to devices, which act as enlargements of the hands, whatever they are; feathers, furs, chains, ropes or whips…
.
All will be guided by the conscience's energy. The bases of each deep move are the presence, the awareness in the moment, the curiosity and openness for whom, which I am touching and at the same time the awareness of myself. Everything else is just totting up, a learnable technique.
.
In the passing years I did develop to a sort of touching specialist. Due to my high sensibility I did experience a lot of unpleasant encounters. However I was also able to experience the touching`s wonderful beauty and high quality. The exchange of touching is a great miracle and a fascinating mystery for me.
.
I was observing, that between grabbing and touching there are quite great differences.
Seldom we are aware of the forms of communication's broad variety in touching. Mostly it is going on quite mechanically and unconsciously and does transport (likewise as the body-language does) therefore also some things, which are unwelcome.
.
To become fully aware of these dimensions oneself, it is learnable and in the end does become a gift so deep, as one mostly will be cherished with a happy partner … 😉
Coaching by Touch is a counselling assistance with the desire for a partnership or a transformation. It means self-reliance and can strengthen you, to become braver and more aware of yourself. It can strengthen your self-esteem as a man or woman, explore your erotic vibrations, no matter which sexual tendency you are following.
.
It helps to explore oneself, to understand oneself better and/or also to better understand your partner. It makes it possible for you, to interpret better the touching language.
Together with you searching, developing and broadening the possibilities you do already inherit, that's my intention here.
.